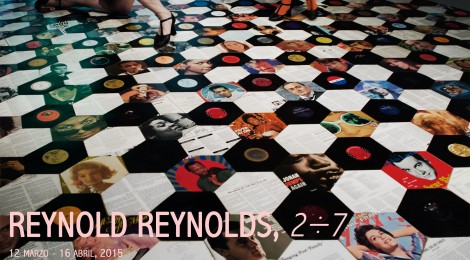 Casa Maauad presents 2 ÷ 7 by Reynold Reynolds, the second artist residency at Casa Maauad in 2015. Reynold Reynolds (Alaska, USA, 1966) works mainly with film as a medium to create installations. His body of work explores how film relates to other art forms, the relationship between science and perception, and the overall idea that the use of imagery can shape and reshape our understanding of ourselves.
'2 ÷ 7' includes two new video installations, 1 Part 7 and 2 Part 7. 1 Part 7 focuses on a Renaissance image that demonstrates the rules of linear mathematical perspective, questioning historically similar ideas of experience and self. The work connects the exploration of the often-troubled relationships between viewing positions, visual technologies, and notions of modernity, "back to a far earlier period, when the very notion of a 'technology of viewing' was first being forged." 2 Part 7 involves a black and white television and long playing records; two quickly fading 20th century medias. Both came to prominence in the late 1950s and early 1960s adding to the popular vocabulary the words "Stereo", "High Fidelity", and "The medium is the message".
Altamirano 20, San Rafael, Cuauhtémoc, 06470 DF, D.F., Mexico
-SPANISH-
Casa Maauad presenta la muestra 2 ÷ 7, Reynold Reynolds como resultado de la segunda residencia de artista de 2015.
El trabajo del estadounidense Reynold Reynolds (Alaska, EEUU, 1966) se basa principalmente en el video como soporte. Su trabajo tiende a explorar la relación del video con otros formatos de producción artística, así como la ciencia en relación a la representación y el potencial que tienen las imágenes para modificar nuestra percepción de nosotros mismos.
En la exposición 2 ÷ 7 , Reynold Reynolds se presentan dos piezas nuevas. 1 Part 7 la cual parte de una imagen Renacentista que trata de explicar y dar significado a las reglas de la perspectiva matemática lineal y cuyo contenido explora la complejidad de las relaciones entre los puntos de vista del observador, la tecnología de lo visual y las nociones de modernidad. En contraste, la pieza 2 Part 7 hace alusión al devenir de las tecnologías obsoletas como la televisión en blanco y negro y los discos de vynil, resaltando su contribución al desarrollo de un vocabulario particular donde se popularizaron términos y conceptos como: "estéreo", "alta fidelidad" y "el medio es el mensaje".
Altamirano 20, San Rafael, Cuauhtémoc, 06470 DF, D.F., Mexico