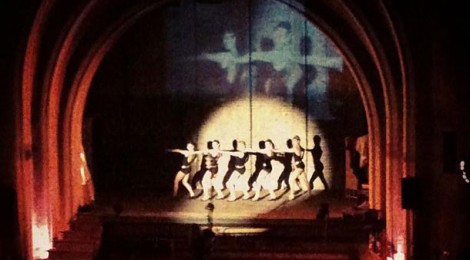 Step into a fantastical world of surrealism and silent films, reawakening the spirit of 1920's Berlin in a historical location – Das ehemalige Stummfilmkino Delphi.
Award winning PER ASPERA PRODUCTIONS brings avant-garde theater and video arts together with newly composed music performed live by a 12 piece orchestra!
EXPOSURE BERLIN is performed in English, German, and French. It is based on "Les Mamelles de Tirésias" the 1917 play for which the word "surrealist" was invented.
This one of a kind production is an homage to das ehemalige Stummfilmkino Delphi – an originally preserved silent film theater from the 1920's. EXPOSURE BERLIN is the first major production to take place here for 70 years, awaking this historical monument from its enchanted slumber.
Let us take you into a fantastical world, where dream and reality collide…
After this performance there will be a special screening/performance of "The Lost". Artstudio Reynolds (Reynold Reynolds) has spent the last two years restoring and reconstructing footage from an unfinished film made in Berlin in 1933. "The Lost" is a film in the style of Fritz Lang, which began shooting in the early 1930's and because of the changing political landscape in Berlin at that time, was never completed.
http://www.reynold-reynolds.com/
Don't miss out on this very special screening, in the theater where it might have originally premiered.
1920's style clothing is encouraged!
Tickets:
http://www.reservix.de/tickets-exposure-berlin/t4352
Other performances:
Oct. 12, 13, 19, 20, 21
There is a different fantastic aftershow every night! Check our website for details:
http://www.exposure-berlin.com/en/after-show/