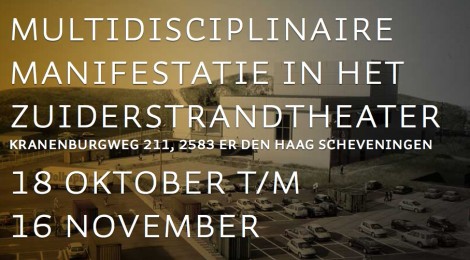 West will present the Drowning Room as part of their filmprogram during this years Volkspaleis (18.10.2014- 16.11.2014)

This year West presents the Volkspaleis (People's Palace) in the Zuiderstrandtheater. The new monumental installation 'One Mind In A Million Heads ' (O.M.I.A.M.H.) by Konrad Smoleński made in collaboration with choreographer Noa Shadur is the central piece of the presentation. Curator Michał Libera has invited a selection of artists for the event. In all facets the program aims to show the extreme range of an audio speaker. In a period of five weekends, noise, electronically amplified to an overwhelming volume, will change via an acoustic, soft volume to almost complete silence.
Located in Hall 1 visually and aurally seductive film and video works are screened daily during the Volkspaleis. Ranging from video performances to feature length dramas, from documentaries to art films each respond to different aspects of Konrad Smoleński Installation 'One Mind In A Million Heads' such as the body in relation to the environment, sound as material, or the structural configurations that can be found in both architecture and film.
The film program includes works by Maya Deren, Mauricio Kagel, Reynold Reynolds & Patrick Jolley, Alan Schneider, John Akomfrah (The Black Audio Film Collective), Yasujiro Ozu, Leni Riefenstahl, Bruce Nauman and Walter Ruttmann.  
More information on the film program can be found here

For the full program: http://www.volkspaleis.org/2014/en#program
For more information: http://www.volkspaleis.org/2014/en#info