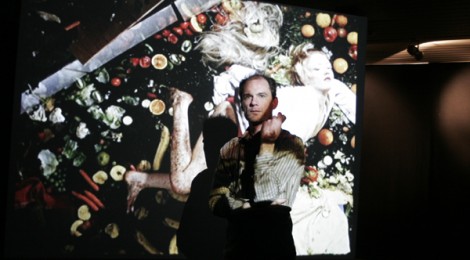 2014-15 Witt Artist in Residence: Reynold Reynolds
Reynolds will be working with constructed architecture models and live performers in a gallery space to investigate ideas of scale and forced perspective. Using screens, mirrors, simple props, shadows and wall orientations in the gallery, a new piece will be filmed. The finished work will incorporate stop motion animation, architectural scale models and live performance to address Architecture, Space, Time and Perception.
Witt Artist In Residence
The mission of the Roman J. Witt Residency Program is to support the production of new work with assistance from the Stamps School community. The program awards one residency per academic year for a visiting artist/designer to work at the school to develop a new work in collaboration with students and faculty. A centerpiece of the residency is the open studio, a centrally located studio space that is part of the school's main gallery where the resident carries out work in a public domain. This public visibility of the artist/designer's process is intended as a teaching tool for the school as a whole. The residency is expected to culminate in the realization of the proposed work, as well as a presentation that summarizes the process and work accomplished.