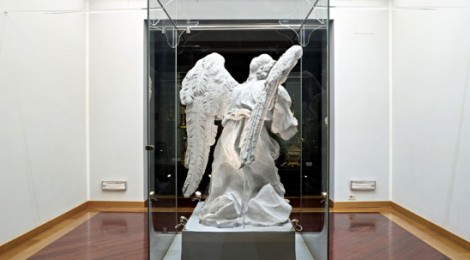 CONCRETE GHOST, curated by Christian Caliandro
Nanni Balestrini, Anna Gimon Betbeze, Hamlett Dobbins, Tony Fiorentino, Catie Newell, Reynold Reynolds, Giuseppe Stampone, Marco Strappato, Thomas Kelley, Catherine Wagner
The artists gathered together in Concrete Ghost / Fantasma Concreto condense, in various ways, the diffuse sensation of suspension permeating the present moment. The idea is adapted from a text by Giorgio Vasta, Italian Affiliated Fellow in Literature at the American Academy in Rome. It is at once a very specific condition and, at the same time, an elusive and evanescent one. It is that of a ghost possessed of a body, senses, sensuality, and a brain that comprehends. The embodied ghost is the precise opposite of a vanishing body: it is rather immateriality assuming concrete physical form. The concrete ghost entails movement, tension, an oriented mechanism, an atmosphere of perfectly controlled and dominated obscurity.
CINQUE MOSTRE 2014
Exhibition: TIME AND AGAIN
Opening: Thursday January 30, 2014
Hours: The Exhibition is open on Fridays, Saturdays and Sundays from 4pm to 7pm until 2 March 2014
Venue: Gallery – Cryptoporticus – Casa Rustica
American Academy in Rome
Via Angelo Masina, 5
www.aarome.org